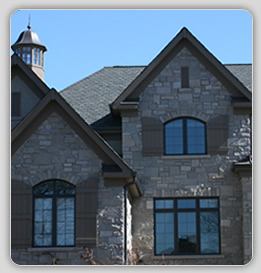 Stone is a natural solid formation of one or many minerals. There are thousands of types of stones that have been quarried through the centuries. A majority of natural stone comes from Italy, Spain, Turkey, United States. Mexico, China, Taiwan, Canada, France and Brazil.

Natural stone is a valued building material. Its beauty, durability, and quality cannot be duplicated. Natural stone is regarded as the premium choice for high-end home and building construction.

There is two types of natural stone that can be used on the building: full veneer stone and thin veneer stone. The thin veneer stone is a lightweight alternative to full veneer.

The alternative for natural stone is manufactured stone- which is produced by pouring a combination of cement, aggregate and color pigments. Manufactured stone products replicate natural stone so accurately that they withstand the closest examination.

Thin veneer stone and manufactured stone are great choices for materials replacing the E.I.F.S.