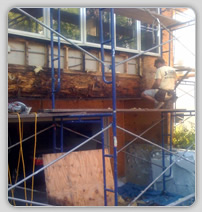 Re-clad or repair? This is the one of the most difficult choices facing owners of synthetic stucco homes. When moisture intrudes the E.I.F.S. wall, the synthetic stucco coating tends to trap it. This trapped water causes the mold growth and rot of the house wooden structure.

Many concerns arose regarding this issue and the overall performance of E.I.F.S. Some theories blame misapplication of E.I.F.S. materials, improper interface of E.I.F.S. with other components (such as windows, doors, and flashing), and defective construction materials- to an all out condemnation of E.I.F.S.

The E.I.F.S. manufacturers and many builders contend that repair of E.I.F.S. is sufficient to restore the systems' reliability. Proponents of the repair argue that actual damage to the sheathing and framing of most synthetic houses is below 10%, and can be addressed without total replacement. They also point to the substantial cost differences between repairs and replacement.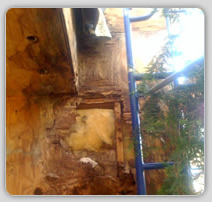 Many construction specialists have concluded that the only way to absolutely insure against long term E.I.F.S. failure and damage caused by resulting moisture intrusion is to replace the E.I.F.S. entirely. To give the inevitability of moisture intrusion, it is absolutely necessary to have a weather resistant barrier on the sheathing of the structure. The only way to incorporate such a feature is to re-clad the home.

If you are trying to sell your E.I.F.S. house, note that potential purchasers significantly discount homes with E.I.F.S. repairs, as opposed to dwellings which have been re-clad.

E.I.F.S. can be replaced with many construction materials. The most common are: natural stucco, brick, stone, cedar siding, fiber cement siding. The E.I.F.S. removal process usually involves cooperation of many different trades: carpenters, roofers, electricians, etc. To ensure efficient and quality outcome and customer convenience Stuccoall Inc. coordinates entire project.

Regular maintenance and sealant inspection of your E.I.F.S. home significantly decreases chance of getting moisture behind the system. However, once the water intrudes, more advanced steps are necessary.